Bollywood tadka team. These days, there is a lot of marriages in the industry one after the other. After Kiara Advani-Siddharth Malhotra, now Union Minister and actress Smriti Irani's daughter Shanel Irani has tied the knot. Chanel had a royal wedding with advocate Arjun Bhalla at Khinvsar Fort in Nagaur, whose pictures are now all over the internet. Mother Smriti Irani was seen collecting a lot of limelight at her daughter's wedding.
Smriti Irani started the wedding rituals of daughter Shanel by blowing conch shell. The guests at the royal wedding were welcomed with the traditional customs of Rajasthan, which were attended by members of both the families and a few special guests.
Smriti Irani warmly welcomed son-in-law Arjun who arrived with the wedding procession. Fireworks also took place in the fort during this period.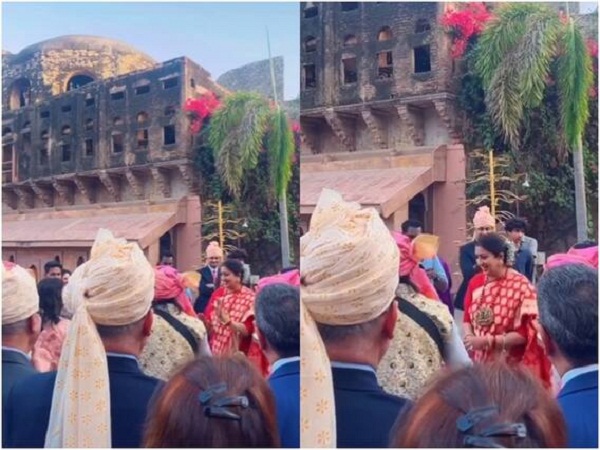 At the same time, Smriti wore a red saree at her daughter's wedding and was also seen dancing fiercely.
In her wedding, Shanel wore a red heavy work lehenga. She complemented the look with golden kaleera and red bangles. Whereas, Arjun Bhalla looked the perfect groom in an off-white sherwani with a red pearl neckpiece.
The wedding of Shanel Irani and Arjun Bhalla took place in the presence of 70 people. Smriti Irani did not invite any VIP person for the wedding.