Mumbai Priyanka Chopra, who has made her strong identity from Bollywood to Hollywood, is often in the headlines. Priyanka, who has become a role model for crores of fans, is often spotted in big events too, where she is seen making headlines with her statement. Meanwhile, recently PC arrived in New York to address the United Nations General Assembly, where he expressed concern over the situation in the world. During this, he also spent some time with Nobel Peace Prize winner Malala Yousafzai, whose pictures are also very much on the internet.
Priyanka Chopra shared some videos and pictures on her Instagram, in which she is seen chatting with Malala Yousafzai, Amanda Gorman, Somaya Farooqui and Judith Hill. Referring to Amanda Gorman's words in the post, he wrote, 'So proud to share the stage with these two amazing ladies.' Amanda also shared this photo on her Instagram account and wrote, 'Love you.'
At the same time, in the address, Priyanka said, "We are meeting today at a critical point in our world at a time when global solidarity is more important than ever. The world is grappling with the climate crisis and the devastating effects of the COVID-19 pandemic. elevates lives and livelihoods, as conflict, anger, poverty, displacement, hunger and inequalities destroy the foundations of a more just world.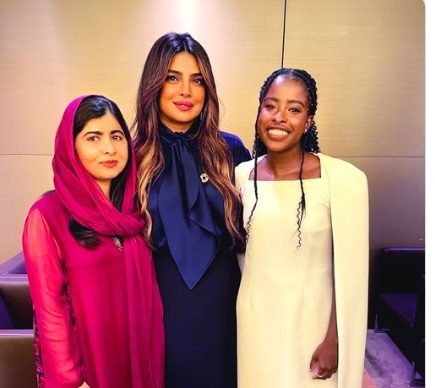 The actress further added, "I grew up in India, where access to education is a challenge for a lot of girls, as in many other parts of the world, where children want to learn, but there are challenges to do so. Huh. I believe that education is just the cornerstone of equality, social justice, social change and democracy.