MumbaiOn 2 September 2021, a news came which broke everyone's heart. There was news that 'Bigg Boss 13' winner and actor Siddharth Shukla is no more. Siddharth Shukla died at the age of 40 due to heart attack. This news shook everyone from inside. Today it has been a complete 1 year for Siddhartha. On the first death anniversary of Siddharth Shukla, his fans and close friends are remembering him in different ways.
Some are lighting a lamp in his name and some are donating in his name. Meanwhile, his mother Rita Shukla's letter is going viral, which she wrote to Big Boss for her son, which was a mother's feeling….
Dear Big Boss
'I am writing this letter to you, Siddharth Shukla's mother, to say thank you… you have made me aware of many such aspects of my own son which I did not even know. Thanks for introducing me to Chef Sid, making round rotis, making tea, making eggs, chopping vegetables, washing dishes… Sometimes I can't believe my son is doing all this. Being the youngest in the house, Sid has always been protected, whenever Sid was sick, he would not leave me even for a moment, now when he fell so ill, I did not remember him.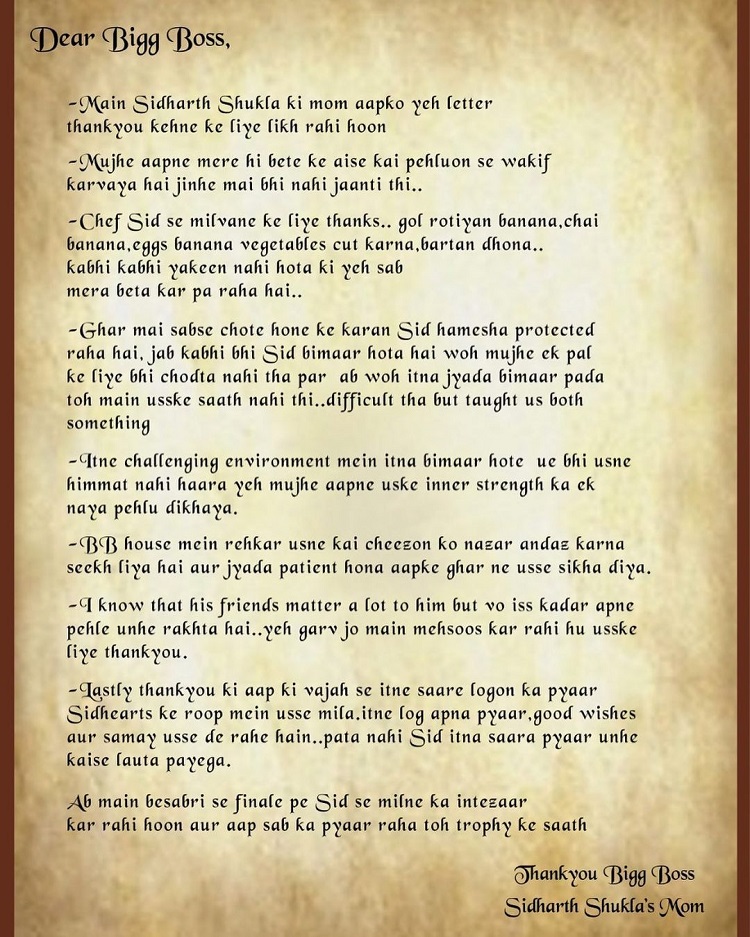 'It was difficult but that too we learned a lot. Despite such a challenging environment and being sick, he did not give up. You showed me a new side of his inner strength. Living in BB house, she learned to ignore many things and be more tolerant, your house taught her. I know that her friends are very important to her, she sees them before herself, that's the pride I feel Thank you for that. Thank you in the end, because of you, he got the love of so many people in the form of Sid Heart. Don't know how Siddha will be able to return so much love.'
This letter was written by Siddharth's mother when the actor was in Big Boss… but who knew that this would happen, Siddharth really left and left, could not believe it. Who knew that the mother whom Siddhartha would never leave alone, today that son is unable to even hear his voice.
It is worth noting that Siddharth Shukla said goodbye to the world on 2 September at the age of just 40. According to the report, Siddharth died due to heart attack. It has been a full year today, saying goodbye to Siddhartha to the world.