Mumbai: Pani puri i.e. golgappas are everyone's favorite. Gol Gappas are known by different names in different places, such as- Pani-puri, Batasha, Puchka, Phulki, Gupchup etc. Many people often get water in their mouth as soon as they take the name of Pani Puri. No matter what the age of a person, everyone eats Panipuri with a sparkle. But do you know that not only humans but animals also like water very much.
Yes, the video going viral on social media is proof of this. In the viral video, a cow and its calf roaming on the road are eating golgappas with great gusto. Hardly ever before have you seen any animal eating golgappas with so much relish.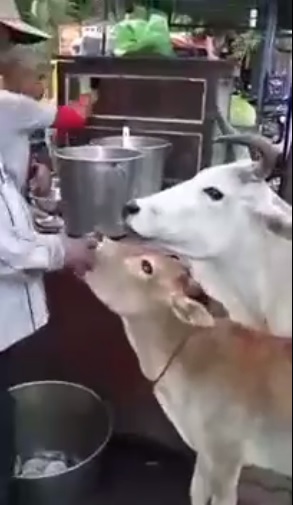 In the video, a man is seen feeding golgappas to a cow and its calf. In the video, you will see how both the mother-child duo are enjoying golgappas while waiting for their number.
Mother-daughter should be together and there should be a golgappa shop.
Then what to say#mother daughter # respectfully #Beautiful pic.twitter.com/KnLjiR1lfs

Sanjay Kumar, Anu. Collector (@dc_sanjay_jas) September 25, 2022
Sharing the video, the person wrote in the caption – 'What else can be said if mother and daughter are together and they find a golgappa seller.' Although this video is old, but once again it has become viral on social media.