Mumbai 'Drama Queen' Rakhi Sawant remains in the discussion for one reason or the other. The actress keeps entertaining people with her words, but this time something has happened, due to which Rakhi is very angry. Actually Rakhi's boyfriend Adil has received death threats. The actress has also shown a threatening message, the video of which is going viral on social media.

In the video, Rakhi is seen in a yellow crop top and black trousers. The actress has completed her look with light make-up and top. At the same time, Adil is looking very good in orange T-shirt and black pants. Rakhi is showing a threatening message sent to Adil, in which it is written – Adil, leave Rakhi Sawant or else he will kill her. He is from Bishnoi group. This threat to Adil has been sent on his phone by a person named Adil Hasan. Which one is less than Rakhi? Rakhi threatened the person who threatened her. Rakhi said angrily- 'Stop threatening this, understand it. If anything happened to my Aadil… finish me first. Understood? And why would you kill me? Is love a steal? Is it a crime to love? You guys didn't love? Nothing should happen to my Aadil. You guys are my brothers. Build a sister's house, don't ruin it.
Rakhi Sawant said all this in anger but she is also sad. Rakhi Sawant said- 'I am very sad. My Adil is getting threatened. In the message it is said that we will kill you. We are from bishnoi group. Stay away from Rakhi. We love each other. What have we done wrong? Why are you threatening us? Adil is my life. I cannot survive without him.'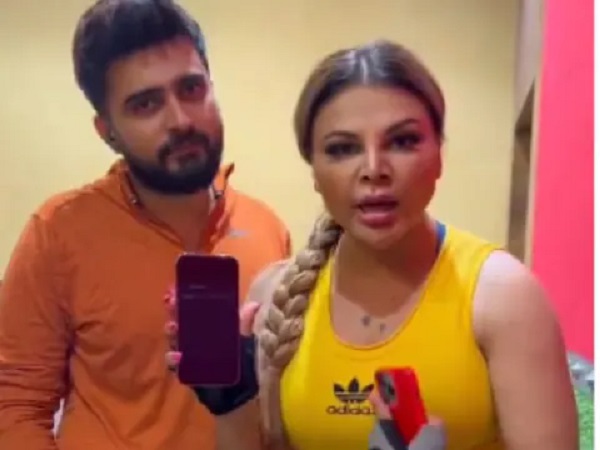 Let us tell you that Rakhi Sawant and Adil Durrani told that this message came to them in the evening. Fans are asking Rakhi to file a complaint with the police. At the same time, some time ago Rakhi had told that because of her, Adil's sister is not getting married. People are telling Adil that if Rakhi brings Sawant as a daughter-in-law, who will marry her sister. Rakhi Sawant had also told that there are many people who are jealous of the relationship with Adil. Many people remain enemies of his love.